I totally had an amazing post ready to rock 'n roll today to celebrate my halfway point in this pregnancy. And it's all gone. Deleted into the depths of the internet world. Oh well, I guess that's the gamble you face when pouring your heart out for everyone to see. Anyway, for what I remember here is
another
attempt to make my mark among all the other mama's out there celebrating their pregnancy, whether they just found out, are halfway, or in the home-stretch.
I wish I could to celebratory high kicks-or perhaps some cartwheels of some sort. But, unfortunately it is frowned upon for women "
In my condition"
to do any of those lovely, sought-after things. Just know, that in my heart I am having a little party, maybe even some sushi too :) .. Today, September 1, 2010 marks the 20th week of my pregnancy and a halfway mark for our pregnancy. Yup, ya' heard it right! 20 weeks!!
Do you want to know another surprise? I finally have my 20 week belly photo for you as well-AND-Something extra, because, well you know
it's time to celebrate!
Here is my 20 week Recap:
How far along?
20 weeks! *insert high-kicks and cartwheels here*
Total weight gain/loss:
Only 7 Lbs.!!
Sleep:
I have actually been sleeping
hard
and
long
the past couple of days! I hope this keeps goin' (ya, good luck with that one Tor!)
Best moment this week:
Finding out from my Doc. that I will need to go in for another ultrasound-she assured me that
everything
was perfect. But they require an ultrasound at 20 weeks.
Movement
: It is crazy in there-it's like a little party in my uterus! No kicks yet though
Food Cravings:
Salt. I am putting salt on everything! Rice? Corn? Fish? Bread? Saltines? Salt! Of course I haven't had too much-I don't think :)
Gender:
Will find out soon! TBA!!
Labor signs:
Nope
Belly Button in or out?
still the same ugly, stretchy, belly button that is in-for now
What I miss?
Right now? Nothing.
What I am looking forward to:
Seeing our little one on the monitor again, to feel his/her kick, to hold him/her in our arms. and my life as it's changing..
Weekly Wisdom:
Sleep. Sleep. Sleep. Sleep. Sleep.
Nap.
Sleep. and some more
Sleep.
Milestones:
You all know!
HALFWAY
Party!
Aaaand
some information from a different website: thebump.com
Baby's digestive system is busy creating
meconium
(a tarry black substance made of swallowed
amniotic fluid
, digestive secretion and dead cells), which will fill the first
diaper
after birth. And, speaking of the diaper situation... baby's genitals are now fully formed!
Here is a lovely picture for my sweet M.I.L especially! Go ahead Joyce, call our babes the little Canteloupe! I'm going too :)
source found here
And here is mama and the belly bean: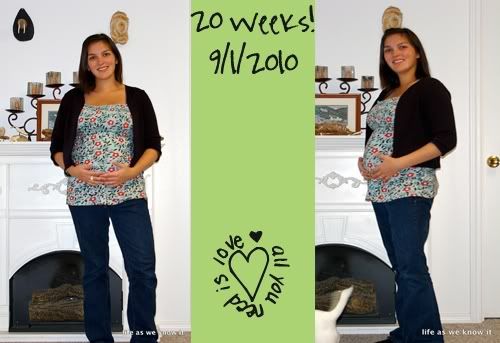 And the for the
HALFWAY PARTY SURPRISE!!!
See that
thing
at the bottom of the picture? That's the belly! This is what I see. From now on, I will be taking pictures of my view-however, I will probably not be showing
all
of 'em. That's for the baby photo book :)
With that I just have to say,
Happy Halfway Birthday little us!!