Today was the first day that I actually
felt
big
and
pregnant
!
It was a hard day at preschool as I was constantly having to run to the restroom, and having difficulty getting up and down off the floor- hence the post that was before this one about smiling.
It was a challenge, one that I'm sure is just bound to get worse! But in retrospect, it's a challenge that I can't wait for! It just means our Sweet Pea Baby Girl is
growing. :)
Without too much more ramblings...We're off to the good stuff:
How far along?
24 weeks!
Total weight gain/loss:
Still no idea, but I'm sure it's a ton!
Sleep:
I have been sleeping incredibly well. Clint has mentioned that I have been cuddling with him a lot lately. I have no recollection of this, but I like it :)
Best moment this week:
Monday night, Clint made dinner (like he does most nights) and took care of
everything
while I soaked in a warm bath with a candle and my meditation music, thinking about our amazing future we have ahead of us. It was so
relaxing
and took away all my stresses about work and school! What a
Sweet, Sweet
man I have for a husband.
Food Cravings:
Non this week. The sweet cravings have finally subsided and I'm back to my snackage of apples, and pears :)
Gender
: Girl!!
Labor Signs:
None
Belly button in or out:
In, but I have decided to let you know Clint's favorite thing to do; he proceeds to stick his finger in my belly button and twirl it around making a "wheee" noise! As ridiculous as that sounds, it's hilarious! My belly button is
H.U.G.E.
What I miss:
Running
What I am looking forward too:
Besides the obvious (i.e.: future with our baby girl finally here, and seeing family in December and January). I'm excited to get back into a rigorous workout regime while starting
Karate!
Weekly Wisdom:
I don't feel like I'm full of any wisdom at this point
Milestones:
hitting the 6 month mark! I can't believe that in just 16 weeks (give or take-
hopefully-
just a few days) we will have our little girl in our arms
!!!
Here is what
The Bump
has to say about pregnancy during the 24th week: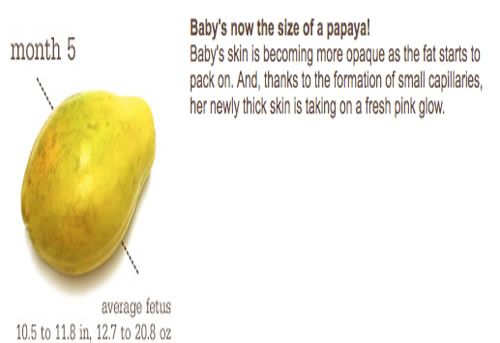 Photo: