Clint has been
extremely
busy this week with the Karate instructors in town and today, he had a cross country running meet-he has been coming home the last few nights around 11:00pm. Today the weather outside was wet and cold and as much as I wanted to be there to cheer the team on, I'm battling a head cold and don't want it to get any worse... But that's not to say I was unproductive. I cleaned the house and I baked Clint a delicious Cranberry, Blackberry Bread with a lemon glaze! Did I mention that the orange juice was squeezed by hand?! I'm just sayin' :).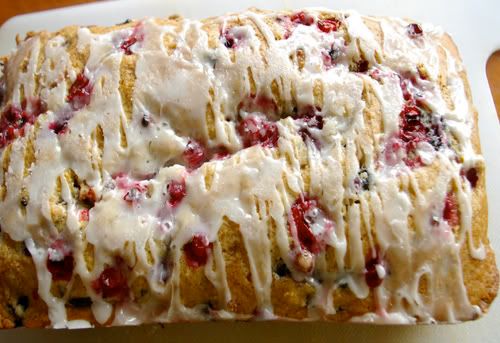 sorry, the last picture is blurry....
Here is the recipe:
2 cups flour
3/4 cup white sugar (I substituted 1/2 for brown sugar)
3/4 tsp. salt
1 1/2 tsp. baking powder
1/2 tsp. baking soda
1 cup cranberries (whole)
1/2 cup chopped walnuts (or raisins-or both!)
1/4 cup applesauce (or 1 egg)
2 Tbs. vegetable oil
3/4 cup orange juice
1 Tbs. orange zest
1-2 Tbs. milk
For Glaze:
some powdered sugar and some lemon juice (I didn't measure this part-but make sure not to make it too runny)
Directions:
1. Preheat oven to 350 degrees. Grease a 9x5 inch loaf pan.
2. Combine flour, sugar, salt, baking powder, and baking soda. Add cranberries and walnuts(or raisins) and stir to coat with flour. Mix together the applesauce(or egg), oil, orange juice and orange zest. Pour the egg mixture into the flour mixture, and stir until blended. If too dry add milk 1 Tbs of milk at a time until it gets moist.
3. Bake for 50 minutes in the preheated oven, or until a toothpick inserted near the center comes out clean. While baking, make the glaze. Once the bread is done, cool in pan for 5 min. and drizzle glaze on top of the warm bread. Cool completely for another 10 minutes, then remove to a wire rack, and cool completely. Enjoy!
adapted recipe from here