It has been quite a while since I had an update for Baby Love huh? I so apologize, the past two weeks have been busy and I haven't felt like taking a bump picture. I thought though, that this baby deserves as much love as our first born, so here it is. I'm back with updates :) ... We finally received our new computer and can now upload pictures (as you can tell from the last two posts!) ...
My bump has gotten
so
h.u.g.e.
not even kidding! I love every moment of being pregnant, even though I am miserable because I know that I'm growing a little human inside of me. It's totally worth it and I can't wait until we meet our baby girl!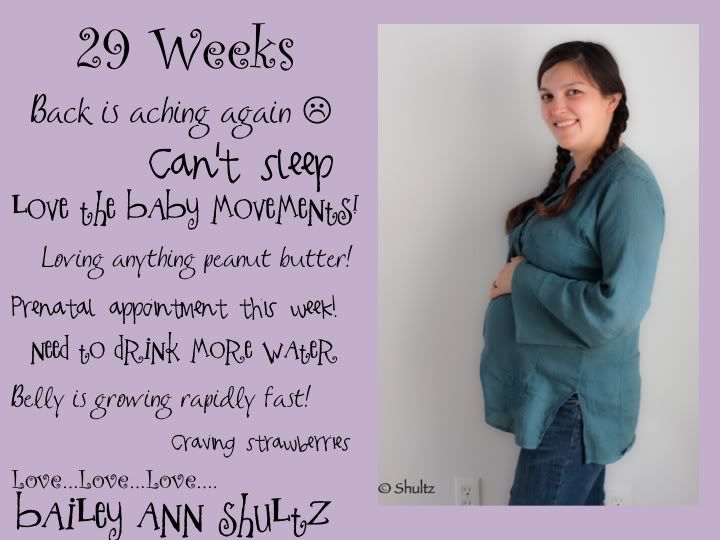 Total weight gain/loss:
Will not find out until later this week. Probably a little too much :)
Sleep:
Not sleeping well at all. We got rid of some pillows and only have two to work with.
Best moment this week: Clint talking and kissing the baby!
Movement: Everyday all day.
**Stimulation: Bria laughing gets this baby excited. They are going to be besties :)
Food Cravings:
Strawberries
Gender: Another sweet baby girl!
Belly Button in or out?
In. Stretched. But in and stretched!
What I miss?
Sleeping soundly on my tummy, sushi, wine.
What I am looking forward to: Summer time, fishing, crabbing, camping, being outside.
Weekly Wisdom: God is faithful. He will get you through the hardest times.
What The Bump Says: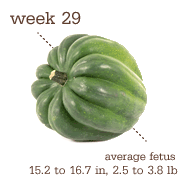 Your baby's the size of an acorn squash!
Baby already measures about 15.2 to 16.7 inches long. Right now, we weighs about 2.5 to 3.8 pounds but he's still got a ways to go -- can you believe he'll triple in weight before birth?
your baby at 29 weeks
He's getting a little cramped in there, since he's growing so fast. But you probably already realize that, since you're getting all those jabs and kicks.
He's growing white fat deposits under his skin, and his energy is surging because of it.
Feel a subtle twitch? It might be baby hiccupping.
Everything is happening so fast, it's hard to believe that in only three short weeks we will be home. We are going to miss White Mountain so much...And it's even crazier to think that in two months we will have a family of four!