Sorry this post is a little late! We have been in battle against the stomach flu this weekend (actually Clint has been in battle) and I have been his aide :) ... Although a strong feeling of being nauseated has come over me quite rapidly since Sunday night and I can't quite kick it out the door, hence the quick bathroom picture of the baby bump this week. Ah well, what would these updates be if I didn't have a classic picture like this one ? Okay, okay...I think this is my second but whose counting?
Here it is!
25 week bump:
Here is what The Bump has to say: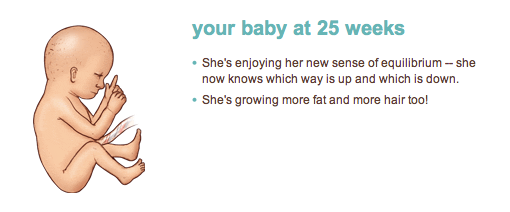 This pregnancy is going by so quickly. I have been working on a letter to baby for about 3 weeks now and it doesn't feel like it's quite done yet. But I promise, I will share it once I'm finished with it.
Other than being sick, nothing out of the ordinary is happening here. Still waiting for warmer weather. It feels about -27 right now. Ugh. Can't wait for summer!
How is everyone else doing?