Before I get to the weekly update and pictures. I have some news! Some very, very good news. News that every mommy waits for.
Clint felt the baby kick!
Tuesday
night at
8:43

pm.
It was soft, and I will never forget the amazing look on his face when it happened. It was like a Christmas-morning-winning a championship-on-top-of-Mnt.-Everest kind of smile. It was priceless!
I just can't wait until the day Clint holds our baby girl! He is going to be the most amazing father (I know every mommy-to-be says that about their husbands, but really, this is the truth!).
Okay, on to the weekly updates:
How far along?
25 weeks 1 day
Total weight gain/loss?
I have no idea. I don't really care either. Staying active all day, doing yoga, and eating fresh produce as a main source of my diet, i'm sure not too much.
Best moment of the week:
DUH! :) Tuesday night when the daddy-to-be felt his little daughter kick.
Food cravings:
Naddah!
Gender:
Girl!
Labor Signs:
None.
Belly button in or out:
Still in. Still huge.
What I miss:
Nothing.
What I am looking forward to?
Just being able to watch Clint and our daughter together. It's going to be the most amazing breath-taking-knock-my-socks-off sight to see!
Weekly Wisdom:
Rest as much as you can!
Milestones:
Daddy feels baby girl kick!
Here is the weekly picture: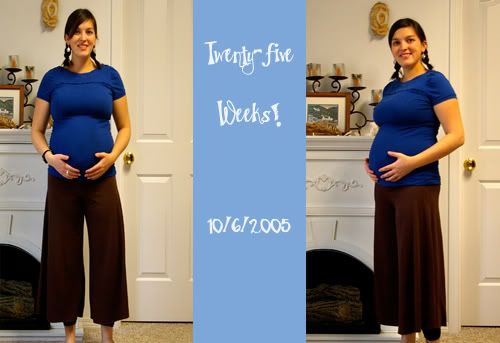 Mamma and baby bird : 25 weeks
Here is information from
Baby Center
regarding our little one at 25 weeks:
Head to heels, your baby now measures about 13 1/2 inches. Her weight — a pound and a half — isn't much more than an average rutabaga, but she's beginning to exchange her long, lean look for some baby fat. As she does, her wrinkled skin will begin to smooth out and she'll start to look more and more like a newborn. She's also growing more hair — and if you could see it, you'd now be able to discern its color and texture.
And here is a comparison :) .... Don't we just
love
to compare babies to fruit/veggies?!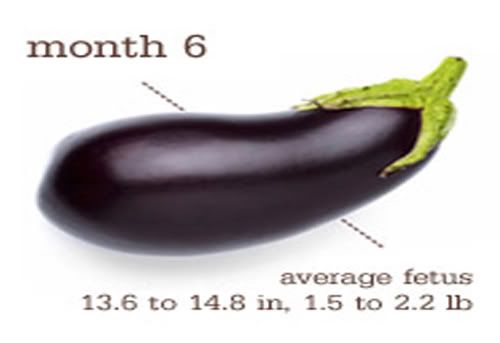 Hope you all have a great week!