I know this is my second post for today...and I was going to wait to post until tomorrow but I'm to darn excited to give a hoot! After my blessed morning with Clint waking up and making pancakes which were slathered with Almond Butter...Mmm... We decided that it's too nice of a day to spend inside. I mean, living up in northern Alaska where winters can be brutally cold, you have to take advantage of the nice weather. So, with dogs in tow, all four of us headed out! It was a beautiful day with the sun shining, crisp air, and snow on the ground along with frozen mud. It was a blast!
We had a mini photo shoot! I have been contemplating on whether or not to have professional photos taken of me, the bump, and Clint...But Clint has a hard time spending money on something that, "he can do himself"...
I think his quote proves that, well, he's right! I am so proud of the pictures that he took of me...I feel like a life-giving goddess in these photos...Seriously. I may be tooting my own horn but
this little princess is radiating her beauty through me...
Have a look...Tell me what you think!
26 Weeks and 4 Days...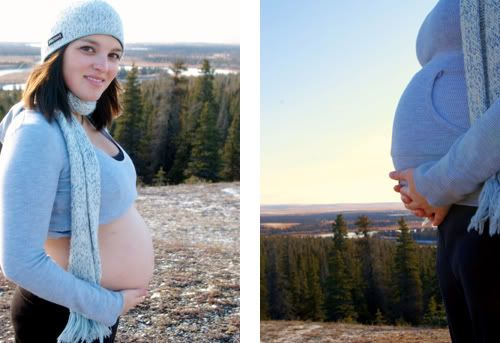 Dear Baby Girl,
You are and always will be, my most precious creation!
Love,
Your Mamma